Abstract Paintings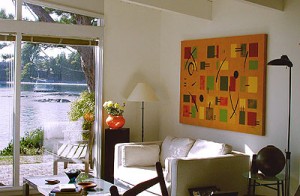 This series of abstract paintings looks very strong in a modern setting. "Your Move" is painted on a layered background of various shades of yellow, iridescent gold and bronze, and ochre. The design is in yellow, light and olive greens and red clay with black accents. Size 70" x 50". Stretched and mounted onto 1.5" deep stretcher bars - no need for framing. Price $1500. SOLD All paintings shown here are signed originals, acrylic on canvas.
All of Debra Gould's paintings are signed originals. They have been shipped all over the US, Canada and as far away as Australia. Enjoy visiting Debra Gould's Gallery of Abstract Paintings further down this page.
A painting can also be designed specifically to complement your colors or other room features. See Custom Orders for more information on how Debra would work with you.
For order information or if you are considering a commissioned painting, please contact us indicating what item you're interested in. We will advise availability, and confirm pricing and shipping details prior to your order. Payments can be made by PayPal, Visa or Mastercard.
You can read what Clients have to say about the products they have received.
Gallery