Primitives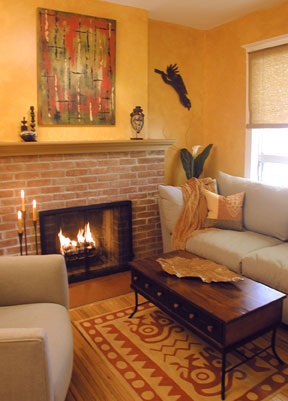 Primitives Floorcloths by Debra Gould work well in an eclectic decorating scheme. This room was featured in Woman's Day Magazine.
These hand painted floorcloths by Debra Gould are inspired by primitive design motifs from various regions of the world. Suitable for contemporary and eclectic decor styles and mix well with floorcloths from the
Wild Things Collection.
Any floorcloth in the Primitives Gallery below can be done in different colors and sizes to complement your decor.
With fabric or paint swatches, Debra will tailor her designs to your specific needs. See The Custom Process for additional information. These floorcloth designs can also be recreated as a painting as you'll see in the gallery below for the "Sunset Stars" design.
For order information or if you are considering a commissioned floorcloth, please contact us. We will advise availability, and confirm pricing and shipping details prior to your order. Payments can be made by PayPal, Visa or MasterCard.
Gallery