Garden Tools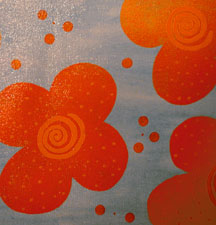 Hand painted garden tools make a unique gift
Bring a touch of whimsy to your gardening!
It all started with a painted garden rake for the Victoria Gallery of Art "Arts in Bloom" Silent Auction. From the tremendous response, it was clear that gardeners were looking for beautiful tools to make their work more satisfying. After all, why shouldn't you smile at the sight of your spade?!
Small gardening tools are available by special order, featuring hand painted wooden handles. These make an excellent Birthday, Mother's Day or House Warming gift for the gardeners in your life.
If you would like to find out more, please contact Debra.