What's Next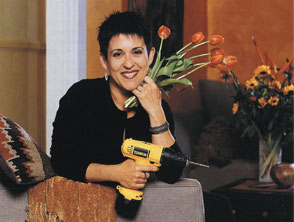 MoneySense Magazine says, 'If you're looking to score on the real estate market, your best investment may not be a house or condo, but an hour with Debra Gould. Through her company, Six Elements Inc., she dispenses design advice to people who want their property to sell faster and for more money.' A frequent guest on HGTV and other networks as well as being profiled in magazines and newspapers across the US and Canada, Debra Gould is also a writer in her own right. Learn more at Debra Gould's online media room at
www.debragould.com
. If you want to learn how you can become a home stager, visit
www.stagingdiva.com
.
In creating custom floorcloths, table runners, place mats, clocks and mirrors for years, clients increasingly asked for help with redesigning their interiors or choosing paint colors.
Combining these skills with her keen ability to decorate a home to sell (which she proved to herself as she bought and sold six houses in only eight years), Debra Gould expanded the services available to her clients.
Today, she is an internationally recognized expert in the field of home staging after decorating tens of millions of dollars worth of real estate through her company Six Elements Inc.
Referred to as "the dream weavers of the real estate world" (Forbes Magazine, 2002), Home Stagers (or "House Fluffers" as they're sometimes called) can take a home and turn it into another house entirely— often in a matter of days!
Gould's expertise as a Home Stager is in increasing demand with some of the city's top real estate agents and their clients. Through her "Virtual Staging Consultation Service," she also offers advice by phone and e-mail to clients all over North America.
Perhaps its her MBA training, but she takes a very bottom line approach to staging a home to sell. "I've visited over a thousand homes in various price ranges and in different cities," says Gould, "and I still love looking at real estate and analyzing what can be done to improve a home's marketability."
Decorating a home that isn't for sale involves a more personal approach, with careful attention to reflecting the style of the inhabitants. A house is just an empty shell until we make it a home by filling it with color, furnishings, art and special objects that have meaning for us. Gould's thoughtful placement of these builds an environment that never looks artificial or "decorator done".
"Whether I'm developing a color palette, rearranging furniture, or designing custom art and accessories, my goal is to create a unique environment that enriches the people living there and is welcoming to others," says Gould.
She has taught others to do the same through her Staging Diva Home Staging Training Program and helps homeowners and real estate agents worldwide find a home stager through her network of over 1000 Staging Diva Graduates.
Gould is currently writing her fourth book, which will be a behind the scenes look at the life of a home stager.
If you'd like to know when new items are added to the site or new services are available,  contact Debra (your e-mail address will not be shared with any third party!).