Custom Orders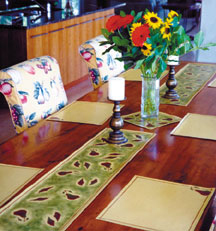 I'm passionate about colour and it is the starting point for all my work, says designer Debra Gould. Clients generally pick from swatches of my custom-blended acrylics or I mix paint to match their wall colours, fabrics, tiles or furniture. We develop a color palette and the design flows from there. I love helping clients bring a uniqueness to their everyday environments by creating something special for them.
There are several samples on this site to provide a sense of different design directions and colors.
For clients in the Toronto area, designer Debra Gould will bring several samples to your home so you can see them in the appropriate environment. There is a $200 fee for an appointment in your home. The cost of this is deducted from any product you order.
Clients outside Toronto typically send fabric or colour samples and room photos. Ideas are e-mailed back and forth and an agreement is reached before any production begins.
During in-home consultations, Debra helps you determine what colours appeal to you by going through colour books, paint samples and the colour swatches she has created.
Next, different design possibilities are discussed. Often something in the room is used as a jumping off point for the new design. This may be a detail in one of your fabrics or tiles or even a combination of elements from the samples that are brought to your home. Possible sizes and/or shapes are also discussed. One of the principal advantages of custom work is that you can have exactly what you want!
The process is meant to be fun and stress free. Debra skillfully leads you through it helping you make decisions along the way. Don't feel that you need to have a mental picture of what you're looking for in advance. Her job as a designer is to introduce you to new possibilities and help you discover what appeals most to you.
During or after the meeting (or e-mail discussions) Debra provides a written detailed cost quotation (describing her understanding of what's needed) including a commitment to a delivery date for your approval. You are under no further obligation until this quotation is signed.
A deposit of 50% is paid to start the project and the balance is due upon delivery. For clients outside Toronto, full payment is received prior to shipping. A digital photo of your finished project will be e-mailed to you so you know what's coming.
Payments can be made by PayPal, Visa or MasterCard.
You can read what other clients have to say about the products they received.
For additional information and to discuss your project, please contact Debra.