What Clients Say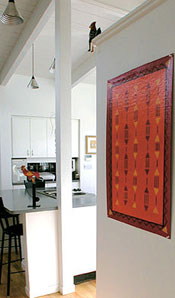 "We really love our new wall hanging. It's great that you could take a floorcloth and add grommets so we could hang it so easily. The colors really pick up the colors in the folk art we have in the room." (Ruth Bennett, Dallas, TX) - Discovered Debra Gould's work in a feature on floorcloths in Dallas/Fort Worth House & Home Magazine.
"His parents loved the table art and really appreciated receiving a unique gift— it looks fabulous! They use it everyday in the kitchen, but also in the dining room when entertaining guests." (Doris Damito, Calgary) – Custom table runner and set of six placemats as a surprise Christmas gift for fiancé's parents.
"The floorcloth fits in perfectly in my bedroom. It looks so fresh and makes me smile every morning. I'll cherish it for a long time." (Heather Albrecht, Australia) – Floorcloth ordered off this site. Rolled around a tube and wrapped for shipping to Australia.
"I just want to tell you we received the wall hangings and we're very pleased! Thank you again. It was a pleasure to have such an easy transaction." (Karen Metzger, Alta Loma, CA) – Two 3′ x 5′ wall hangings ordered off this site. They were rolled around a cardboard tube, protected with layers of paper/bubble wrap for shipping.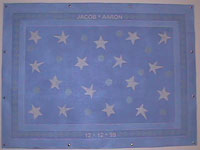 "The wall hanging looks amazing in the nursery. It's perfect with the bedding, wallpaper and other furnishings. Thank you so much!" (Deb Cohen, Chicago) - Custom wall hanging coordinates with room and incorporates baby's name and birth date. Client chose a design from this site and mailed fabric & paint samples for reference.
"Wow, we're going to eat in here every night now! I never wanted to use the dining room because I don't have time to clean and iron placemats and tablecloths." (Elizabeth Myers, Victoria) – Table runner and set of placemats purchased off this site for client's dining room.
"What a great wedding shower gift! I'm so happy you were able to coordinate with their china pattern. Your design was perfect." (Lisa Hall, Toronto) – Client provided name of china pattern and color information which she learned from the store where the couple was registered. A custom set of placemats were then designed to complement the china.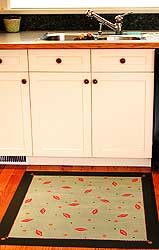 "My kitchen looks so much better with the floorcloth in front of the sink. It really ties in the granite backsplash and the red chest in our family room. The other day the garbage leaked all over it and I couldn't believe how easy it was to clean. You were right, it does stand up to a lot!" (Susan Bing, Victoria) - Custom painted 3' x 3' floorcloth based on an existing design from the Home Collection. A new colour palette was developed to match the Client's home.
"It so nice to see an old art form reinterpreted for today. Our floorcloths are receiving lots of compliments. We love 'em!"(Leslie Watson, Victoria) – Custom designed/painted two 8′ x 3′ hallway runners and a 7′ square floorcloth.
"As colour conscious as Matisse, Gould coordinates but doesn't match her clients' interior tones." (Boulevard Magazine) – Cover story on functional art for the home
"I received my Accent Mirror-love it… Thanks… high marks for your work, the packing and the photography." (Chris Garby, San Francisco, CA) – Handpainted mirror selected from this website.
"I've been looking for the longest time for something to go between French doors to our back balcony and the island that separates the kitchen from the dining room. Everything I liked was wool – which of course would not be good for that area. The floorcloth is perfect." (Barb Stern, VT) – Custom painted 5′ x 3′ floorcloth based on existing design modified for Client's colours.
"I just love the new floorcloth and matching cat mat! What a wonderful finishing touch to my kitchen!" (Marie Campbell, NY) – Custom painted floorcloth and cat mat based on one of Debra Gould's designs featured in the book Floorcloth Magic.
"I just wanted to tell you how much we're enjoying our kitchen floorcloth. We've received so many compliments from friends!"(Sue Rubin, Victoria) – Custom painted 5′ x 3′ floorcloth based on existing design modified for Client's colour palette.