Poetically Inspired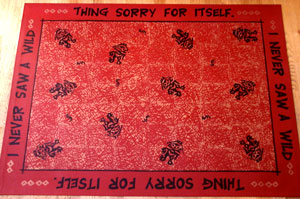 From the Sufi mystic and poet Jalaluddin Rumi, to Duke Ellington, DH Lawrence and even the famous economist John Kenneth Galbraith, artist Debra Gould finds inspiration for this growing collection of floorcloths. Lettering style is chosen to fit the mood of the piece and then painstakingly positioned around the perimeter of the design. This part of the process alone can take a full day in the studio.
This collection will provide a definite conversation piece for any room in your home.
The words on these floorcloths can be chosen to make you smile, or simply to make you stop and think about what's important in your life. Visit this page often as Debra has so many inspiring quotations ready to add to new pieces of "art for the floor."
A floorcloth can be painted to complement your colors and designed around your own favorite line of poetry or famous quotation. Learn more about how Debra would work with you to create a custom floorcloth.
For order information or if you are considering a commissioned floorcloth, please contact us indicating what item you're interested in. We will advise availability, and confirm pricing and shipping details prior to your order. Payments can be made by PayPal, Visa or MasterCard.
Gallery