Artist Profile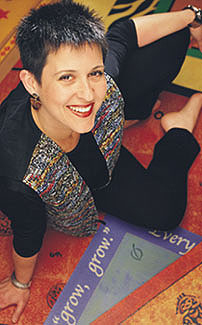 "We're surrounded by functional objects, usually mass produced and not necessarily that fun or interesting to look at," says Debra Gould when asked why she chose functional art as her focus. "With a few handcrafted items, we create a unique home environment and bring our rooms to life," she adds.
A bold sense of design and passion for color are captured in the Debra Gould Home Collection. Dubbed "as colour conscious as Matisse" in a Boulevard Magazine cover story, it's no surprise that Gould's work is collected in Canada, the US and Australia.
Her company, Six Elements Inc. is a reflection of the very elements Gould brings to her work and her life— energy, form, style, design, color and passion. She believes that these elements are also what make a house a home.
Gould has a Diploma in Creative Arts from Montreal's Dawson College and a BA in Communications from Concordia University. She later studied silversmithing at the Instituto d'Allende in Mexico and at the Ontario College of Art. More unusual for a designer, Gould is also an MBA graduate from the Schulich School of Business (York University), who made her first career consulting to Fortune 500 companies.
Believing life is the adventure you make it, Gould took a one year sabbatical from her consulting business and moved from Toronto to Salt Spring Island in 1998. There, an idea was born to develop a full line of home furnishings with floorcloths as the first product.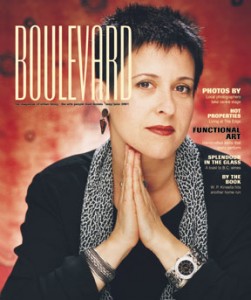 Within her first year as a professional designer and artist, Debra Gould's work was featured in a magazine cover story on functional art for the home.
The
Debra Gould Home Collection
was first introduced in Victoria, BC in 1999 followed by Toronto and Montreal in 2002.
All items in the Debra Gould Home Collection are handpainted and signed originals, with no two exactly alike. Much of Gould's work is custom made for specific clients. For additional information, contact Debra or call the studio at 416-691-6615.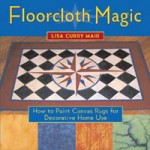 Debra Gould is one of 19 floorcloth artists in North America featured in the book Floorcloth Magic by Lisa Curry Mair.
Today, Gould designs, paints and markets her creations from her Toronto studio, in addition to running her home staging, interior redesign and color consulting business.
Inspired to teach others how they could follow their own creative passions into a profitable career, Gould is also the creator of the Staging Diva Home Staging Business Training Program with over 1000 graduates worldwide. From her program, which was launched in late 2004, women and men on five continents have learned how to take their own decorating talent and turn it into a successful home staging  (also called house fluffing and real estate staging) business.
Gould has emerged as one of the world's leading experts on decorating homes to sell and is frequently quoted in the media in both the US and Canada. She is also a frequent contributor of articles on the subject of home staging. To learn more, visit Debra Gould's Online Media Room.
If you are interested in having Gould speak to your group about following your passion to start a business or reinvent your life, contact Debra.
Gould is a member of Digital Eve, the Ontario Craft Council and the Scarborough Arts Council.