Contact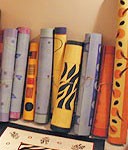 For order information or if you are considering a commissioned creation, please contact us indicating what item you're interested in.
We will advise availability, and confirm pricing and shipping details prior to your order. Payments can be made by PayPal, Visa or MasterCard.
The fastest way to get a reply is to use the contact form below. Please specify the product and design of interest so we can reply promptly.
You can reach Debra Gould's studio by calling: 416-691-6615
Our mailing address is:
Six Elements Inc.,
2255B Queen Street East, Suite # 364,
Toronto ON Canada
M4E 1G3