Whimsical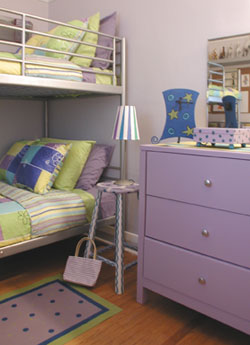 Whimsical floorcloths are a great way to add color combined with the durability of a floorcloth. This room features a variety of items from the Home Collection for Woman's Day Magazine.
This Whimsical Collection of hand painted floorcloths by designer Debra Gould provides a playful accent in contemporary spaces. Excellent in kid's rooms, home offices and even grown up kitchens!
These are also a great way to take the focus off ugly vinyl floors by providing an eye catching distraction.
If you're interested in an item, contact us to check whether it's in-stock. When it's time to order, payments can be made by PayPal, Visa or Mastercard.
A floorcloth can also be designed specifically to complement your colors or other room features. See The Custom Process for more information on how Debra would work with you.
Gallery