Table Art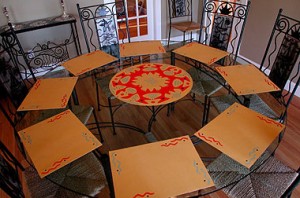 Handpainted table art provides a fabulous focal point for any room. Perfect for dining rooms and kitchens, these mats can also add new life to a plain dresser, coffee table or night stand. No more laundering or ironing, and these won't fade! Multiple layers of varnish protect against any damage from food spills, moisture and UV rays. See Making of a Floorcloth for additional information on the construction.
Table art provides a fabulous focal point for any room and can be designed to suit any setting.
Beautiful yet practical too!
Because these hand painted table runners and place mats are created using the same techniques as Debra Gould uses to create her durable floorcloths, you can use these for dining and even red wine spills and dripped candle wax are no longer a problem!
Use them to provide a decorative accent in bedrooms, living or family rooms and you'll also be able to hide a damaged table or dresser top.
For custom work you can choose a design concept from any of other products on this site. Any of the floorcloths, or even mirror, styles can be adapted to runners and placemats. Just pick a design you like, and Debra will lead you through the process of getting exactly what you need. Table runners and mats can be made in any size according to your needs.
You can read what other clients have to say about the products they received.
Gallery